Datum
Festival
Ort / Adresse
Tickets
14.07. – 16.07.2017
Mighty Sounds
Tábor

Tschechien

Tickets
War das Mighty Sounds Festival vor ein paar Jahren mit wenigen tausend Besuchern noch ein Insidertipp für Ska-, Punk- und Reggae-Fans, so hat es sich inzwischen fix in der europäischen Festival-Szene etabliert. Die Location ist ein Flugplatz im tschechischen Tábor. Was bei näherer Betrachtung direkt auffällt ist, dass die Preise, sowohl bei den Tickets als auch bei den Getränken, im Vergleich zu österreichischen Festivals relativ niedrig sind.
Mighty Sounds Festival 2017
Im Jahr 2017 findet das Mighty Sounds Festival bereits zum 13. Mal statt.
LineUp
Für das Mighty Sounds Festival 2017 wurden bisher z.B. Adversity, Crowned Kings, Bob Wayne, Itchy Poopzkid, Maid of Ace, The Toasters, Turbobier und Despite Everything bestätigt.
Mighty Sounds Festival 2016
LineUp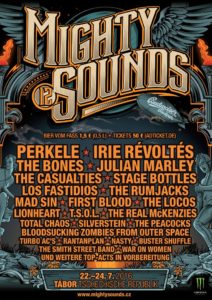 Trailer
Aftermovie
Mighty Sounds Festival 2015
LineUp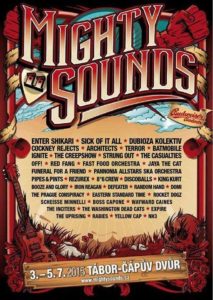 Aftermovie
Mighty Sounds Festival 2014
LineUp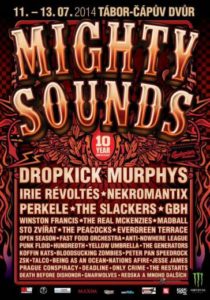 Trailer
Aftermovie
Mighty Sounds Festival 2013
Das Mighty Sounds Festival fand 2013 wieder am alten Flughafen Tábor von 19. bis 21. Juli in Tschechien / der Tschechischen Republik statt.
LineUp
Das LineUp bestand u. a. aus Atlas Losing Grip, Banane Metalik, Catch 22, The Computers, The Creepshow, Crushing Caspars, Doctor Krapula, The Go Set, Integrity, Left Alone, Leftover Crack, Mad Sin, Mr. T-Bone & The Young Lions, The Offenders, Pay No Respect, Polemic, Prague Conspiracy, Random Hand, Swingin Utters, The Toasters und U.K. Subs.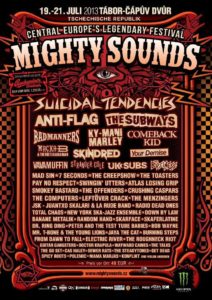 Aftermovie
Mighty Sounds 2012
Mighty Sounds 2011