Datum
Festival
Ort
Tickets
25.10.2017
Beatpatrol Festival
VAZ St. Pölten

Kelsengasse 9
3100 St. Pölten

Tickets
Nach einigen Jahren, in denen das Beatpatrol standardmäßig 3 Tage lang stattfand, wurde es 2014 auf einen einzelnen Tag gekürzt, was bis jetzt so beibehalten wurde.
Beatpatrol 2017
Glücklicherweise können wir sagen, dass auch dieses Jahr wieder ein Beatpatrol im VAZ St. Pölten stattfindet.
Tickets
Für alle, die noch keine Tickets haben, gibt es sie hier zu kaufen.
Beatpatrol 2016
Wie auch in den letzten beiden Jahren fand auch 2016 das Beatpatrol nur noch eintägig statt.
LineUp

Trailer
Beatpatrol 2015
Das Beatpatrol Festival fand bis 2013 mehrtägig statt. 2015, genau wie 2014, fand das Beatpatrol nur noch eintägig statt.
LineUp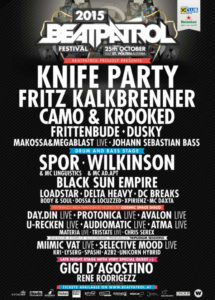 Trailer
Beatpatrol 2014
Das Beatpatrol Festival fand 2014 doch noch statt und wird weiterhin existieren. Darüber freuen wir uns natürlich genauso sehr wie ihr.
LineUp
Hier einige der Acts von 2014: Deadmau5, Claptone, DJ Fresh & Messy MC, Faul & Wad Ad, Flume, Paul Kalkbrenner, DJ Snake, Robin Schulz, Black Sun Empire.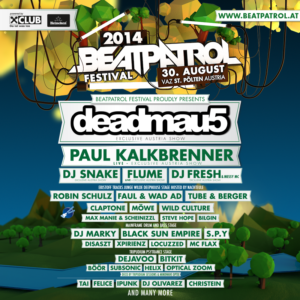 Trailer
Aftermovie
Beatpatrol 2013
Das Beatpatrol Festival fand 2013 vom 31.05.-02.06.2013 im VAZ in St.Pölten statt. 
LineUp
Ganz oben im LineUp standen Justice und Steve Angello, gefolgt von Steve Aoki, Hardwell, Boys Noize und vielen weiteren. Viele dieser Acts und DJs waren 2013 auf mehreren Festivals in Österreich anzutreffen (z.B. UAF oder Electric Love).
FREITAG:
SIZE MATTERS STAGE:

STEVE ANGELLO

ARTY

SWANKY TUNES

AN21

FIREBEATZ

MAX VANGELI

THIRD PARTY

QULINEZ
SAMSTAG:
STEVE AOKI

HARDWELL

BOYS NOIZE live
Rest of the lineup:
DJ ANTOINE

JOACHIM GARRAUD – 3D Invasion Show first time in Austria

KLANGKARUSSELL – exclusive Festivalshow 2013

DJ FRESH

DATSIK neu

DIRTYPHONICS Live

SKAZI

GESAFFELSTEIN Live

BRODINSKI

XKORE

HAEZER neu

AUTOEROTIQUE

SOUTH CENTRAL

PROXY

DEORRO

TANTRUM DESIRE

CULPRATE & MC MAKSIM

MC COY'S SUN PROJECT live band

TRISTAN

BLISS

KLOPFGEISTER

AMITO live

ARMY OF THE UNIVERSE

WATCH THE DUCK

SLACKJOINT live

KODRA live
RAM Stage:
ANDY C

GOLDIE

CALYX & TEEBEE

LOADSTAR

WILKINSON

HAMILTON

KOVE & LOKO – ProgRam Showcase

RAY RAMPAGE
MC's: DYNAMITE, GQ, LX ONE, VISION OBI
Stage hostings: UKF, DIM MAK, SIZE MATTERS, VIERMALVIER, SAMSARA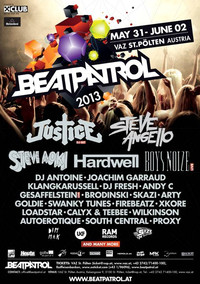 Trailer
Aftermovie

Beatpatrol Festival 2012
2012 fand das Beatpatrol Festival erneut in St. Pölten im VZA statt. Das Festival war mit etwa 29.000 Zuschauern sehr gut besucht.
LineUp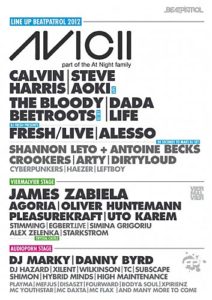 Hier die vollständige Liste des Line Ups vom Beatpatrol Festival 2012:
Armin van Buuren, Steve Aoki Live, The Bloody Beetroots DJ Set, Dada Life ,Alesso ,Nicky Romero, Shannon Leto & Antoine Becks(30 Seconds To Mars DJ-Set), Crookers, Arty Cyberpunks, Haezer, Avicii, Calvin Harris, Joachim Garraud, DJ Fresh presents Fresh/Live, Tommy Trash, Dirty Loud, Mustard Pimp Live, Leftboy, Jamey Zabiela- Len Faki, Agoria- Oliver Huntemann, Pleasurekraft, Uto Karem, Stimming, Egbert, Simina Gregoriu, Alex Zelenka (Crystal Castles), Starkstrom, James Zabiela, Agoria, Stimming, Egbert. Live, Starkstrom, DJ Marky, Danyn Byrd, Hazard, TC Wilkinson, Subscape, Xilent, Shimon, HIigh Maintenance, Hybrid Birds, Playma, Mefjus, Disazt, Fourward, Body & Soul, Xpirience, MC Youthstar, MC Daxta, MC Flax, Logic Lomb, Filteria, Penta, Painkiller, Mekkanikka, Phatamix, Ajja, Aphid Moon, Dick Trevor, Texas Fagott, Freeze, Mademoiselle Chaos, Daksinamurti, Skywalker, Amito, P_Mac, Lagun, Marcato, Da Ray, Mandulis, GI_O
Trailer
Aftermovie

Beatpatrol Festival 2011
LineUp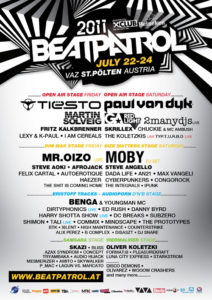 Beatpatrol Festival 2010
Aftermovie